Sharing Healthy Recipes with the Community...
This Savory Soup Helps Keep Winter Weight Gain Away
At just 147 calories and 3 grams of fat — and with a healthy dose of fiber and protein — this easy-to-make soup is a great way to increase your veggie consumption. It makes a nice lunch with a crusty piece of whole-wheat bread and fruit for dessert.
Broccoli Soup with Lemon and Chives
Ingredients:
1 tablespoon olive oil
2 cloves garlic, minced
1 yellow onion, chopped
8 cups chopped broccoli (1½ to 2 pounds)
4 cups water
1 can (15 ounce) white beans, rinsed and drained
Salt and pepper, to taste
Toppings:
3 tablespoons lemon juice
1 cup low-fat plain Greek yogurt
¼ cup chopped fresh chives
Salt and pepper, to taste
Instructions:
In soup pot, sauté oil, garlic, onion and broccoli about 10 minutes, until tender. Add water and beans. With a hand blender, puree half of the soup. Season with salt and pepper. Bring to a boil and simmer for 10 minutes. Mix lemon juice, yogurt, chives, salt and pepper. Serve drizzled on top of warm soup.
Source: Academy of Nutrition and Dietetics
Let's Make Popcorn Treats!
What a tasty treat to make for the Holidays!
Cinnamon-Apple Popcorn
Ingredients:
1 cup chopped dried apples
5 cups popped popcorn
1 cups pecan halves
2 teaspoons butter, melted
1 teaspoon brown sugar
½ teaspoon cinnamon
¼ teaspoon nutmeg
¼ teaspoon vanilla extract
Instructions:
Melt butter and brown sugar in microwave until sugar is no longer grainy. Add cinnamon, nutmeg and vanilla extract to the melted butter. Pour mixture over popcorn. Add dried apples, and pecan halves to popcorn, mix ingredients and enjoy!
Vanilla Popcorn
Ingredients:
4 teaspoons canola or vegetable oil
4 teaspoons vanilla extract
¼ cup un-popped popcorn
1 teaspoon superfine sugar
salt to taste
2 teaspoons butter, melted
Instructions:
Heat oil and 3 teaspoons vanilla in a large pot over medium-high or high heat for a minute. Add one kernel of popcorn to the oil. When the kernel pops, pour the remaining popcorn. Place a lid on the pot, and shake gently until the corn starts to pop. Shake vigorously until the popping subsides. Remove from the heat, and pour into a large bowl. Stir sugar, salt, 2 teaspoons vanilla, and melted butter into the corn until evenly coated, and serve.
Note to parents: While these recipes contain small amounts of sugar and fat, these ingredients are used as flavoring for a large amount of popcorn, which is high in healthy fiber. These recipes are great for an occasional Holiday or after-school treat. In addition to the chopped dried apples, you can add other dried fruits to either recipe to further boost nutrition.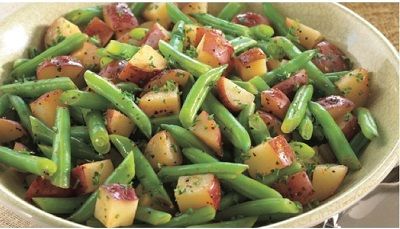 Green Beans & Red Potatoes
8 ounces green beans, trimmed and cut into 2-inch pieces
8 ounces red potatoes, cut into 1/2-inch cubes
2 tablespoons chopped fresh parsley
1 tablespoon plus 1 1/2 teaspoons light tub margarine
1/4 teaspoon salt
1/8 teaspoon pepper, or to taste
1/8 teaspoon paprika
Preparation
In a large saucepan, steam the green beans and potatoes for 8 minutes, or until the potatoes are tender. Transfer to a medium serving bowl.
Add the remaining ingredients, stirring until the paprika is well combined.
Nutrition Facts
Calories 49
Total Fat 1.5 g
Saturated Fat 0.0 g
Polyunsaturated Fat 0.5 g
Monounsaturated Fat 0.5 g
Cholesterol 0 mg
Sodium 129 mg
Carbohydrates 9 g
Fiber 2 g
Sugars 2 g
Protein 2 g
Dietary Exchanges: 1/2 starch
Hope you enjoy this video!
February is American Heart Month
Are you at risk for or already have heart disease? Heart disease is responsible for 1 in 4 deaths in the United States. Start eating healthy to prevent or treat heart disease...try this recipe!