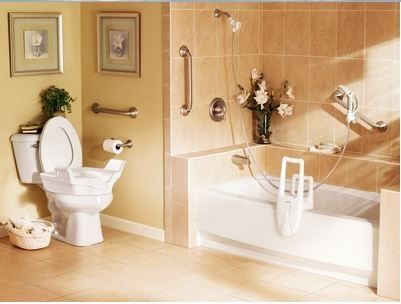 Did you know, 70% of accidents in the home occur in the bathroom?
According to a 2011 study from the Centers for Disease Control and Prevention (CDC), nearly 200,000 Americans are treated in emergency departments for bathroom-related injuries annually.
Home bathrooms often need adaptation if an elderly or disabled person wants to stay at home and remain independent. Ensuring bathroom access and safety may require room adaptations.
Here are some helpful tips for making the bathroom a safer place for your loved one:
Place non-skid mats on the floor of the shower stall or bathtub.
Install anchor grab bars in and around the shower, bathtub and toilet. Be sure to test them for strength and stability.
Consider placing a stool or shower chair in the tub or shower.
The toilet can be modified with a raised toilet seat.
A hand-held shower head makes it easy to shower if using a shower chair.
Provide a place to sit and take care of toiletries, such as brushing the teeth, if your loved one tires quickly.
Remove any area rugs which could cause your loved one to trip or fall.
When it comes to bathroom safety, you and your loved one cannot afford to cut any corners. A safe bathroom will give you the peace of mind that you or your loved one can go to the bathroom or bathe with a significantly lowered risk of injury.
Stop in and talk with our knowledgeable staff about what products you may need to make the bathroom a safer place for you or a loved one.