Diabetes Facts
Diabetes is a disease in which the body does not produce or properly use insulin. Insulin is a hormone that is needed to convert sugar, starches and other food into energy needed for daily life. The cause of diabetes continues to be a mystery, although both genetics and environmental factors such as obesity and lack of exercise appear to play roles.
Diabetes mellitus refers to a group of diseases that affect how your body uses blood sugar (glucose). Glucose is vital to your health because it's an important source of energy for the cells that make up your muscles and tissues. It's also your brain's main source of fuel.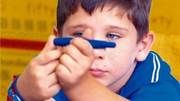 Type 1 diabetes is usually diagnosed in children and young adults, and was previously known as juvenile diabetes. Only 5% of people with diabetes have this form of the disease.
In type 1 diabetes, the body does not produce insulin. Insulin is a hormone that is needed to convert sugar, starches and other food into energy needed for daily life. With the help of insulin therapy and other treatments, even young children can learn to manage their condition and live long, healthy lives.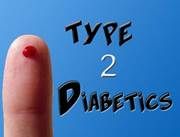 Unlike people with type 1 diabetes, the bodies of people with type 2 diabetes make insulin. But either their pancreas does not make enough insulin or the body cannot use the insulin well enough. This is called insulin resistance. When there isn't enough insulin or the insulin is not used as it should be, glucose (sugar) can't get into the body's cells. When glucose builds up in the blood instead of going into cells, the body's cells are not able to function properly. Other problems associated with the buildup of glucose in the blood include:
Damage to the body. Over time, the high glucose levels in the blood can damage the nerves and small blood vessels of the eyes, kidneys, and heart and lead to atherosclerosis, or hardening of the arteries that can cause heart attack and stroke.
Dehydration. The buildup of sugar in the blood can cause an increase in urination, causing dehydration.
Diabetic coma (hyperosmolar nonketotic diabetic coma). When a person with type 2 diabetes becomes very ill or severely dehydrated and is not able to drink enough fluids to make up for the fluid losses, they may develop this life-threatening complication.
Symptoms of Diabetes Include:
Excessive Thirst
Extreme Hunger
Increased Fatigue
Unusual Weight Loss
Frequent Urination
Irritability
Blurry Vision
If you have one or more of these symptoms, see your doctor right away.